Katy Nuyttens
Katy Nuyttens has been working at our firm since April 2016.
In a distant past she obtained a Law degree, but after a career in the manufacturing sector she wanted to change direction.
She returned to university, and obtained a bachelor's degree in Family Sciences in June 2015.
Her duties consist of monitoring debt mediation cases together with Marleen Vandenbossche.
This means, among other things, that she supports clients over the telephone or in person if they visit the office. She deals with the mail (whether digital or not), and last but not least she is currently working on mastering all the details of a collective debt settlement case.
That is where her legal background comes in very useful.
Katy is not in the office on Fridays.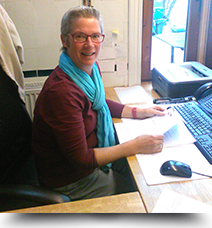 Name:
Katy Nuyttens
E-mail:
This email address is being protected from spambots. You need JavaScript enabled to view it.