Our filosophy
We aim to be very clear beforehand about the costs and fees that clients must expect to pay. That is not always easy to do, because it is often unclear how much time and effort will go into a case.
We take costs into account when there are (tactical) choices to be made: we will always explicitly weigh costs, risks and possible benefits in consultation with the client.
It is possible to agree a fixed fee, or a subscription price (for organisations, companies, civil services, …).
We can also agree additional remunerations dependent on the achieved outcome.
OUR TARIFFS
Our invoices consist of three parts: fees, office costs, and external costs.
All fees and office costs incur 21% VAT. External costs do not incur VAT.
Fees
An initial consultation costs €1 per minute.
Our hourly tariff ranges from €50 to €150, depending on the subject matter, the required expertise and experience, and the urgency of the case.
We only apply this hourly tariff to activities that are clearly time-related: consultations, attendance at court hearings, visits, composition of legal documents. Not for tasks such as writing ordinary letters or making basic phone calls.
A fixed fee can be agreed for work that can be estimated accurately beforehand.
Office costs
Case administration (starting and maintaining a file, bookkeeping, archiving): €45,00 fixed fee
Typing up petitions, writs, conclusions, inventories: €11,00 per page
Correspondence:

Outgoing letters and emails: € 11,00
Incoming letters and emails: € 5,00
Registered letters or special submissions: cost price

Telephone and fax: fixed charge amounting to 15% of the total correspondence charges.
Travel expenses: € 0,40 per kilometre
External
External costs are handled at cost price and do not incur VAT.
External costs include the costs of bailiffs, court costs, costs of official copies, national register copies, international telephone costs, …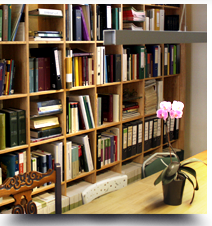 Advocatenkantoor Aalst
Telephone:
+32 (0)53 70 47 98
Fax:
+32 (0)53 70 64 59
Email:
This email address is being protected from spambots. You need JavaScript enabled to view it.
Adress:
Binnenstraat 39
9300 Aalst
Belgium
Location:
click here