Marleen Vandenbossche
Marleen Vandenbossche works at the office since October 2002.
She is a clerk, secretary, jack of all trades, hard drive, and consoler of underdogs. Her diploma in "Family Sciences, option Family Guidance" comes in handy perfectly. After all, Marleen Vandenbossche manages the many files of collective debt settlement.
The office incorporates the following principles in this files:
Expedited petitions: a petition for collective debt settlement can be filed within 24 hours.
Clear information for all involved parties. For example, all debtors get a copy of the sub-account statements.
A pragmatic approach: if we can mediate a solution, we are not going to submit it to the Labour Court.
Prompt follow-up of administrative obligations
A balance between the interests of the debtor (who has the right to a decent life) and the interests of the creditors (which is payment of the debts).
Consistent and objective decision-making
Empowerment: appealing to the debtor's sense of responsibility and ability to learn budgeting and administrative skills.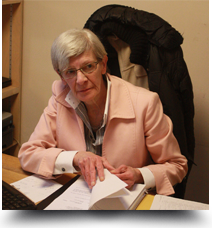 Name:
Marleen Vandenbossche
Telephone:
+32 (0)53 70 47 98
Email:
This email address is being protected from spambots. You need JavaScript enabled to view it.